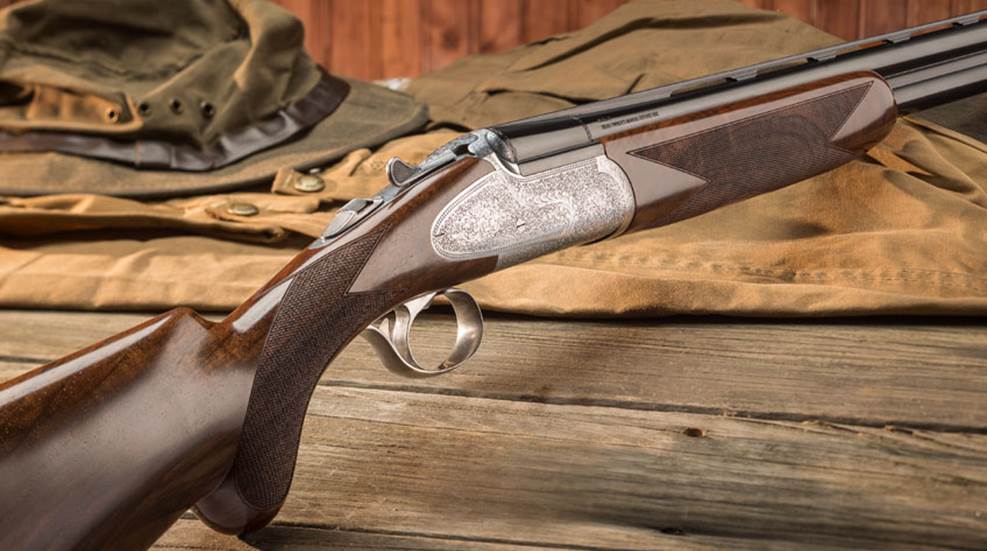 I finally worked my way down an aisle that had escaped my attention for the previous four grueling days of the 2016 Shooting, Hunting & Outdoor Trade Show. And there it was, a black, red and white, mostly black, edifice, reaching for the convention-center ceiling. The Barrett booth is always a treat. You have, of course, the big .50 BMG semi-automatics—the M82A1s and the M107—guns that American troops rely on every day to reach out and touch our nation's enemies. Too, you have precision bolt guns, such as the 98 Bravo, the MRAD and the Model 99. Then there were racks and racks of REC7 selfloaders.
But on that day, I rounded the corner and discovered something I never expected to see. I don't get to use the word gobsmacked often, but in this case it is entirely appropriate. Set among all the black-phosphated steel and matte-finished aluminum, there was high-polish bluing and walnut. Really nice walnut. There, just to the left of a .50 BMG wearing a suppressor wide enough to serve as a municipal drain pipe, there was a little oasis of overstuffed leather chairs, wood paneling, a less-than-convincing faux fireplace and gleaming break-action shotguns.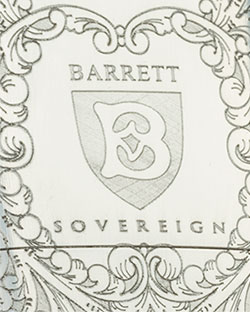 And not just any shotguns, these were highly adorned, classic side-by-sides and over-unders bearing the Barrett name. To start, there were two models with single, selective triggers offered in 12, 20 and 28 gauges, and they were stocked in AAA-grade Turkish walnut. The Albany is an over-under with an open Prince of Wales grip, while the Beltrami is a straight-grip side-by-side.
Barrett is a name best known for NRA Golden Bullseye Pioneer Award recipient Ronnie Barrett and his .50 BMG semi-automatic rifles. These days, his son Chris has grown and expanded the business, and he has even designed a gun or two himself. But Chris is a shooter, and he loves shooting shotguns, and that's what he had in mind with the Barrett Sovereigns.
"We love to hunt. And we love everything about guns. All the history that goes with them," he told me when I asked him about it. "We love classic sporting guns, too. This new brand is just something we wanted to do. We love it all." 
What started off as two nice bird guns has turned into an entire line that also includes the more affordable Rutherford over-under as well as the B-XPro, a dedicated competition gun ideal for sporting clays and other games.
The Right Partner
Admittedly, nice over-under shotguns "don't fall within the Barrett DNA," said Barrett National Sales Manager Mountie Mizer. And Chris Barrett will be the first to crack a smile about that. "It doesn't fit with the Barrett military/tactical line," Chris said with a grin. "But hey, nothing's going to stop us." With the Sovereigns, Barrett has "partnered with another great family-owned company dedicated to high quality and attention to detail," Mizer told me. And that partner is Fausti Stefano.
Stefano Fausti began making shotguns in Italy's Gardone Valley in 1948. Leadership of the company, Fausti Stefano S.R.L., has since passed to his three daughters: Barbara, Elena and Giovanna. Faustis have been brought into the United States by numerous importers through the years, including American Arms, Traditions, Cabela's and Weatherby—as well as Fausti USA. And many a Fausti has been sold bearing the name of other better-known Italian makers. Fausti can make you anything you want in the way of shotguns, at prices ranging from around $2,000 to $60,000. You just need to find the right balance of features and finish, and, thus, price. Barrett thinks it has.
Compared to some other well-known Italian shotguns, the Faustis "offer better wood, oil finish, better checkering and solid Italian design" for the same money, according to Mizer. He should know, as he had spent the past 20 or so years I've known him working for a big name in Italian shotguns. The Sovereigns all come with at least five choke tubes and a velvet sock in a Barrett-branded, fitted, locking Negrini hard case.


The Albany
The Albany has some nice cosmetic touches that befit its price tag. Full-coverage metal engraving—even when done by laser—and well-figured walnut do not come cheap. At $5,700 (or $6,150 for the 28 gauge), no one would call it cheap. A value, maybe; cheap, no. To dig a little deeper, I selected a 20-ga. Albany with 26″ barrels as the gun to spend more time with at the range and the patterning board. The name is for Albany, Ga., as Chris wanted to introduce some Southern hunting heritage and pride with the guns.
Some call it a round body, but more accurately it is a rounded body, with no harsh or sharp angles. It's a boxlock, not a sidelock, but it is one that has extremely well-fitted sideplates. They serve no mechanical function, but they give more room for the beautiful and tasteful laser scroll engraving that covers the entire coin-finished receiver. As a matter of fact, the wood-to-metal fit was excellent, nearly perfect, save for a little proudness near the trigger plate's left side. Speaking of wood, the stock was oil-finished, gorgeous Turkish AAA walnut with considerable figure. The wrist is hand-checkered in a bordered point pattern at 24 l.p.i., and it has an open radius, leading down to a Prince of Wales grip. The gun has a little cast off to benefit a right-handed shooter. The butt is topped with a black spacer and a rubber recoil pad with a hardened insert at its top to aid the gun mount.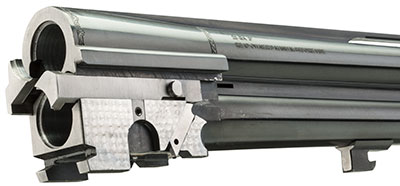 The semi-beavertail fore-end is wide at the back and then tapers toward the front. It, too, is checkered in a double-diamond pattern. It is retained by a Deeley & Edge fore-end latch, and again, the wood-to-metal fit was excellent around it. Where the fore-end iron mates up to the walnut, it was left, deliberately, slightly proud.
The gun weighs 6 lbs., 7 ozs., and its receiver is 2.94″ high and 1.49″ wide. The action itself is reminiscent of the Superposed, with a single 1.08″ wide, 0.14″ tall underlug locking into two 0.245″-wide underlumps on the bottom rear of the monobloc. Side-to-side locking is via 2.43″-long and 0.27″-high lugs on the barrel sides. And, as befits it price tag, the monobloc's sides were jeweled. There is a bit of tasteful scroll engraving around the joint between the barrels and monobloc.
The trigger is single, selective with an inertial block intended to prevent doubling. Recoil is needed to reset the block to the second sear. The hammers are powered by stout coil springs. The tang-mounted safety is not automatic, which bucks the trend in field guns, but is much appreciated by Chris Barrett—and me. Barrel selection is via a button in the safety. Pushing it left reveals two red dots and selects the bottom barrel to fire first. Ejection is selective, automatic.
Barrels are cold-blued, and fitted to take interchangeable choke tubes. Bores on the 20-ga. Albany measured 0.623″ for the top and 0.662″ for the bottom, so they are slightly overbore. Offered are 26″, 28″ and 30″ tubes. Forcing cones are said to be 1.2″. The gun can be had in 12, 20 and 28 gauges, and chambers are 3″ except in the 28, which is 2 3/4″. 
The 20 gauge described here was a very fast-handling and well-balanced gun, and while the 26″ barrels of the sample may have been better-suited for grouse or woodcock, I was able to crush clays with the sample. With obvious pride, Chris told me, "It's going to be an heirloom piece for a lot of folks."


The Beltrami
The side-by-side counterpart to the Albany is the Beltrami, and this classic game gun is admittedly Chris Barrett's favorite. The AAA Turkish walnut stock has a straight or English-style, hand-checkered grip and splinter fore-end (save for 28 gauge, which has a semi-beavertail and weighs less than 5 lbs., 8 ozs.). Like the Albany, the trigger is single, selective.
The boxlock receivers, scaled for each gauge, and their sideplates are coin-finished and feature full-coverage engraving. The barrels selection is interesting, as the 12 gauge is offered in 26″ and 28″ lengths, while the 20 can be had in 26″, 28″ or 30″ tubes. Although the priciest guns in the line, ranging from $6,150 to $6,550, the 12 and 20 gauges I shot pointed simply beautifully.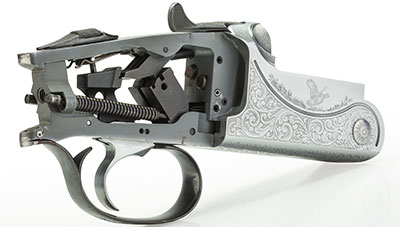 The Rutherford
The Beltrami and Albany might be too spendy for some, and that's where the Rutherford comes in. The Rutherford—named for Barrett's home county in Tennessee—is a boxlock over-under that dials back the ornamentation and dispenses with the sideplates. Instead, the coin-finished receiver has scrollwork below a swooshing line with a quail in flight above it. But the Rutherford does offer gauge-specific frame sizing in 12, 16, 20 or 28 gauges. Note, there is a 16 gauge. Barrel lengths are 26″ and 28″ with 3″ chambers, except for the 16 and 28, which have 2¾" chambers. And even the Rutherford exhibits nice wood, though downgraded from the Albany and Beltrami to oil-finished A+ Turkish walnut. The Prince of Wales grip is checkered at 20 l.p.i. in a bordered point pattern.
The Rutherford comes with five choke tubes, gun socks and a Negrini case, yet is priced at $2,400 for the 12 or 20. The 16 and 28 gauges are a little more at $2,520.


The B-XPro
The B-XPro offers a lot of features competitors are looking for in an over-under. Ornamentation is not as posh, being limited to the gun's name, the Barrett Sovereign logo and some stippling on the receiver sides. What the B-XPro does have is a stainless steel trigger adjustable for length of pull. Simply loosen the Allen head screw and you can move the trigger forward or back. Another nice feature is a comb easily adjustable to fit the user. Loosen two screws with the supplied wrench, and you can move it up to a desired height, then lock it back down. The oil-finished A+ grade walnut stock has a generous palm swell intended for right-handed shooters, and the checkering on the wrist and fore-end is well-executed and done with a laser. There is a thumb groove on either side of the checkered semi-beavertail fore-end, and there is venting in the barrel ribs.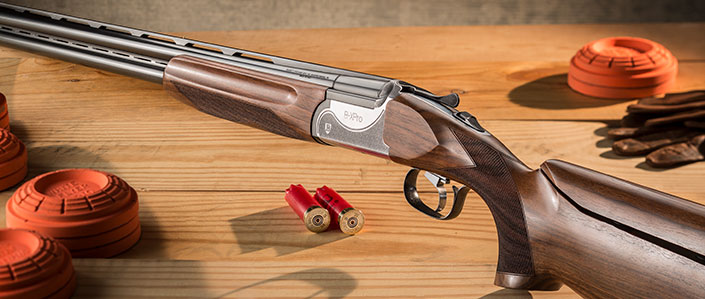 Like the rest of the Sovereign line, the barrels are high-polish blue, fitted into the breeches using a monobloc and feature chrome-lined bores and chambers, but these are offered in 30″ and 32″ lengths. Extended choke tubes are standard, and the front bead is a red fiber-optic pipe. The gun's rib tapers from 10 mm to 7 mm and has a taller height as befits a competition shotgun. The 8-lb., 2-oz. gun is in 12 gauge only—oddly, with 3″ chambers, as most target shooters don't hunt with their clays guns, but the option is there. Six extended choke tubes are supplied, but, as with the other Sovereigns, you can buy others through Barrett customer service.
"It is just a great all-around sporting gun," Chris Barrett told me. "It handles really well, and it will be perfect for a lot of people." Regarding the price, he said, "It's not outrageous, well, not for Barrett anyway." The B-XPro retails for $3,075. As Mizer told me, "It's a lot of gun for what it is," and after a couple  more trips to local five-stand and clays courses, I could not agree more.
Broken Clays … And Promises
For the past two seasons, I've been trying to get to Tennessee for dove season to no avail. I think Chris will stop inviting me soon. That said, I have shot clays a couple of times with Chris Barrett. And just as you'd expect, he's the first to laugh when things don't go the way he expects them to, and he's the first to compliment you when you make a tough shot. For a man who has designed long-range precision rifles, such as the 98 Bravo, and spent a lot of time getting the firm's semi-automatic infantry rifles up and running, he sure seems to enjoy time with a shotgun. And he is good with a scattergun.
The catch phrase Barrett coined is "Perform, never pretend," and I can assure you, the five Sovereigns I have shot perform. About 800 rounds in three gauges so far with no malfunctions. And the "B" that lies at the center of the Sovereign logo? It's derived from a family signet ring given to Ronnie Barrett's father before he shipped out for World War II. So, when the Barretts say these are heirloom guns, they are not kidding.